Manage episode 153126020 series 1082177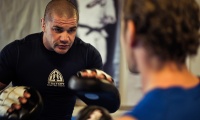 If you're losing steam at the end of explosive workouts, you might want to consider adding creatine to your routine.
MMA fighter and Thai kick boxer James McSweeney and Triton Nutrition® co-founder Robert Seik talk about Triton Nutrition® Kre-Alkalyn and how it's been helping McSweeney go harder for more rounds.
Seik explains that Kre-Alkalyn is made with easily-absorbed alkalized creatine, made specifically for athletes engaging in explosive movements during their workouts. It's perfect for boxers or heavy weight lifters.
McSweeney says since he started taking the supplement he finds he doesn't fatigue during reps or rounds in the ring as quickly.
"Since using the Kre-Alkalyn, I've stayed consistently explosive throughout my workouts," he said. "I'm just as explosive the last round as I am the first."
"You have to try it," McSweeney said.
Take one capsule before any explosive movement and for an added boost, take another capsule immediately after. Try Kre-Alkalyn for yourself and watch your intensity last throughout your workout.
by Robert Seik, PharmD
54 episodes