Manage episode 153126026 series 1082177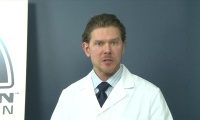 CrossFit athletes are high intensity, heavy trainers and many write in asking what they can do for nutritional support.
It is important to listen to your body and when you feel that you need recovery days, it is important to take them. You should have some heavy days and some light days.
Triton Nutrition was founded by Rico Ebetino, a former US Navy SEAL and Robert Seik, PharmD. What brought the two together was the topic of athletes and nutrient depletion. Both realized that a company was needed that delivered the highest quality of nutritional supplements to hard training athletes.
It is also very important to remember that you cannot just supplement someone's deficient hormones because HRT depletes your own body's nutrients. So nutrient supplementation is necessary with HRT. It is common to see someone who begins HRT and feels good initially, but over time they begin to feel bad again because their nutrients are being depleted. Add heavy training into that equation, which also depletes your nutrients and you can find extremely nutrient depleted individuals.
Robert wants to stress the food first model and that you need to try to get your nutrients first from food and then add supplements when necessary to correct those nutrient deficiencies. It is also important to get the right amount of protein in your diet for those who are training. Protein supplementation in itself can also deplete certain nutrients in your body so it is important to keep that in mind as well. B complex vitamins and magnesium are depleted with protein consumption.
So, heavy training with heavy sweating will create zinc and magnesium depletion, protein consumption will deplete your B vitamins and magnesium and lastly HRT can cause nutrient depletion it itself. Combine all three and you can create a severely nutrient depleted individual. Listen to your body and rest when necessary and correct those nutrient deficiencies.
by Robert Seik, PharmD
54 episodes