Manage episode 153126058 series 1082177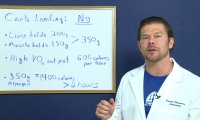 Carbohydrate loading is not necessary for athletes. Make sure you have adequate caloric intake before, during and after training, but carbohydrate loading itself is not necessary.
Many athletes ask about carbohydrate loading. No, it is not necessary for athletes to have carbohydrate loading, even those athletes that are endurance training. It is, however, important to replace carbohydrate stores with Glycogen from foods such as fruits and vegetables.
When you're replenishing your Glycogen stores after a workout with fruits and vegetables, your body's tissues, primarily the liver and muscle, are going to store the Glycogen. The liver can store approximately 200 grams of Glycogen and muscle can store approximately 150 grams of Glycogen. So, together we have about 350 grams of Glycogen on hand at any time in storage.
What does this mean? If you have an endurance athlete running at a high pace with a high VO2 output that athlete may use about 600 kilocalories per hour. If you look at a person's 350 grams of Glycogen store, there is approximately 1400 kilocalories which is greater than two hours of of high VO2 training.
Now, caloric need can vary based on certain factors such as body mass, exercise output, and other stressors such as very low temperature and high altitude. In these cases they require much more calories. But, the bottom line is...athletes do not need carbohydrate loading.
by Robert Seik, PharmD
54 episodes