Manage episode 153126045 series 1082177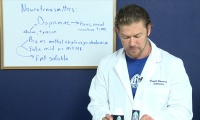 Brain Health - Cognitive Function is important to remember in an athlete because when they train heavily, they will deplete their neurotransmitters. Robert Seik explains how two products can help the body manufacture neurotransmitters and improve mood, reaction time and mental focus.
Neurotransmitters are chemicals that the brain uses to signal other parts of the body. Dopamine is one of the main neurotransmitters in the body. In order to build Dopamine, you need to have the building blocks. This is the basis of two products from Triton Nutrition called Neurokinetic cream and Neuro Balance capsules. The Neuro Balance capsules contain several ingredients to help build several kinds of neurotransmitters, Dopamine being one of them, and these building blocks are the amino acids Tyrosine and Choline. We also need to support biochemical processes to make sure the amino acids are used properly, so trimethyl and dimethylglycine (DMG) make sure that happens.
Also required for the manufacture of neurotransmitters is a group of B Vitamins, specifically B12. Neurokinetic cream is a good source of B12. Many think that we have to take in B12 by mouth, putting it under the tongue or swallowing a pill, but the absorption rate is very poor this way, so Neurokinetic cream was created, which is a lotion that puts the vitamins in a fat soluble form. This should be applied topically to lean areas of the body.
A typical dosage of the Neuro Balance is two capsules a day for athletes. For the Neurokinetic cream, athletes should take two pumps twice a day either on the forearms or on the lower legs. This cream is red in color so that when you apply it to lean areas of the body you can see it easily absorbed. We do not want this cream applied to fatty areas of the body because we don't want it to stay in the fatty tissue. We want it to be absorbed so that it travels to the tissues like our neural tissues and brain that are made up of a lot of fat.
The Folic Acid that is used is not in the form of Folic Acid HCl or some other low absorption form. Instead the form used is the high absorption, high potency form called methyltetrahydrofolate (MTHF). This way, by using this form it gets to the brain. Athletes notice improved mood, mental focus and quicker reaction time. Why? Because that increase in Dopamine is going to improve fast twitch muscle fiber activity and improve overall athletic performance. So, you'll want to take Triton Nutrition's Neurokinetic cream and Neuro Balance capsules for an overall improvement.
It is important to know that not only athletes need to be concerned with Neurotransmitters but also the average aging individual will also notice an improvement in mental clarity, mood and increased response time.
by Robert Seik, PharmD
54 episodes