Manage episode 153126050 series 1082177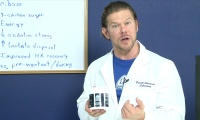 D-Ribose is a supplement for athletes which helps improve energy, endurance and heart rate recovery. By reducing the free radical burden. D-Ribose for Energy is a necessary supplement for not only the athlete, but for all who are undergoing free radical production as part of the aging process.
D-RIBOSE is a five Carbon sugar, but it does not raise blood glucose levels. It is very important in the production of ATP (Adenosine Triphosphate), the body's energy currency. D-Ribose helps the body make ATP so the body has energy. It also reduces oxidative stress. Athletes have very high metabolic demands and they produce a lot of free radicals or free electrons. D-Ribose helps by reducing the free radical burden. It also helps with aging; the production of Free Radicals is what causes all of us to age.
In addition, D-Ribose helps dispose of Lactate. Lactic Acid is a by-product of muscle metabolism and D-Ribose helps with lactate disposal. D-Ribose also helps with heart rate recovery. So if you are doing long distance bicycle or interval training, heart rate can increase but it is important how fast the heart rate recovers. This is one way to measure fitness. Studies have shown that D-Ribose improves heart rate recovery.
Robert Seik likes to recommend mixing D-Ribose in a pre-workout drink and you can also add it to a shake to promote post-workout recovery. You can look at one of the articles for ideas on making shakes. Triton's D-Ribose is 5 grams per scoop and the recommendation is 1-1/2 scoops before or even during a workout for athletes. You will notice a difference.
Long distance runners and cyclists require D-Ribose because they are putting their bodies through such oxidative stress. They will notice improved endurance and improved energy in their workouts.
By Robert Seik, PharmD
54 episodes