Manage episode 153126028 series 1082177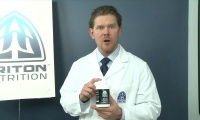 The main ways our bodies age are through the mechanisms of drying up, burning up, turn to stone and we rust. Drying up is through dehydration and the deficiency of certain minerals. We burn up through the process of inflammation. We deposit Calcium into our arteries and we turn to stone. Lastly, we rust through oxidative stress.
Our bodies are inflamed for a number of reasons. We are exposed to so many environmental toxins that are aggravating inflammation in our body. We are eating more and more GMOs that cause inflammation and we're not eating foods that are naturally anti-inflammatory.
The healthy consumption of good oils helps reduce inflammation. You also need to eat a nutrient-dense diet and if you're not then you need to make sure you supplement your diet. Most people are deficient in Omega-3 Fatty Acids, which decrease inflammation. Triton Nutrition's Omega Prime Fish Oil contains 950mg per capsule. The fish oil is isolated from small cold-water fish under the polar ice cap, which are more pure than large fish, which usually absorb more toxins.
Omega 3-Fatty Acid consumption can reduce a number of inflammatory markers like hs-CRP (high-sensitivity C-Reactive Protein) as well as many other areas in the body. It inhibits a cascade of cytokines or eicosanoids that can aggravate inflammation.
The more we train, the more fatty acids are required. Those who are on certain medications that deplete their fatty acids or those with certain diseases such as diabetes also require more of these Omega-3 Fatty Acids. These Omega-3 Fatty Acids also lower triglycerides and help balance cholesterol levels.
Another product that reduces inflammation is the D3 Ultra Drops. Vitamin D deficiency is rampant here in the United States. The Harvard School of Public Health states that the best benefits of 25-hydroxy vitamin D is seen in the 70-90 ranges. Vitamin D below 50 is associated with insomnia. Low Vitamin D means that there is an increased production of inflammatory cytokines like IL-6, IL-17, TNF alpha. Vitamin D drops are relatively inexpensive. D3 Ultra Drops are 1200 units per drop and because it is miscellized it is highly absorbable.
Immune Boost Spray is an isolated form of colostrum produced from grass-fed, organically raised cows. PRPs are extracted from this colostrum. Dr. Andrew Keech's Peptide Immunotherapy book emphasizes the importance of colostrum and the proline-rich polypeptides (PRPs). These PRPs balance the process of inflammation and balance a healthy immune system. This is very important in times of autoimmune diseases like Lupus and Scleroderma.
For more information on the benefits of PRPs please see the article Viruses and the Advantages of PRPs.
by Robert Seik, PharmD
54 episodes