Manage episode 153126036 series 1082177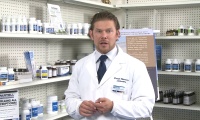 Iodine deficiency has been linked to cysts in the breasts and ovaries and supplementation with Iodine has been shown to prevent, reduce and treat the disease. This is a highly researched topic with a large amount of supportive evidence.
Anti-Aging and Regenerative Physicians consider Iodine to be the forgotten nutrient. Iodine is used mainly in the thyroid, but there are numerous other functions in the body as well. There is a huge Iodine deficiency in the United States and without it, the body suffers. Iodine is used mainly in the thyroid gland to produce Thyroid Hormone, or T4, which means there are four Iodine molecules attached to it. T4 is then secreted and once it reaches the target cells, it regulates metabolic activity inside the cells when it is converted to T3 by an enzyme.
Iodine is important because it can prevent and even treat conditions of hypothyroidism (low thyroid function). Hypothyroidism has been linked to Fibromyalgia, Graves Disease, and Chronic Fatigue Syndrome.
When the body is deficient in Iodine, the thyroid gland can become larger causing a goiter. There are certain areas of the country that are more deficient in Iodine than others. This is called the Goiter Belt. There is not enough Iodine in table salt to provide enough Iodine necessary for the body's needs.
There are many supplements available such as Iodoral, which is highly recommended as a superior supplement.
If you read these articles, you will find that Iodine is not the only nutrient involved with the Thyroid Hormone. In order for the transport form T4 to be made into the metabolically active T3, you need 5' Deiodinase, an enzyme, which requires the multivitamin Selenium. So, you may want to supplement with Selenium at the same time as Iodine. You can read the Blog article on Selenium to learn about its other benefits as well. Other nutrients that your thyroid needs for proper function is the amino acid Tyrosine, Magnesium and Zinc. There are also companies like NuMedica that produce Thyrodex T-150 and ThryoMedica Plus to help support the thyroid.
If Iodine supplementation does not overcome hypothyroidism and it is necessary to take thyroid hormone, compounding pharmacies like Partell Specialty Compounding Pharmacy can make compounded thyroid hormone like Levothyroxine (T4 form), or Triiodothyronine or liothyronine(T3 form), or they can even combine the two forms in a capsule in accordance with the specific ratio that the patient needs.
There are two excellent books by Dr. David Brownstein called, Iodine, Why You Need It and the other, Overcoming Thyroid Disorders if you are interested in obtaining more information.
by Robert Seik, PharmD
54 episodes