Manage episode 153126030 series 1082177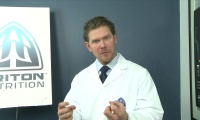 A common question is how can I maintain healthy joints and what can I do if I am experiencing joint pain? Joint pain usually means that there is inflammation present and you need to get the inflammation down. It is important to support your body's anti-inflammatory processes when you're doing your heavy workouts like those who do CrossFit.
Triton Nutrition's product called Joint Restore contains glucosamine, chondroiton as well as hyaluronic acid, which are all building blocks. The product also contains anti-inflammatories like MSM and a New Zealand green-lipped mussel extract called Etarol. If you take two capsules before a workout and then two capsules immediately following a workout it helps with joint restoration and helps reduce the inflammation.
by Robert Seik, PharmD
54 episodes