Manage episode 153126025 series 1082177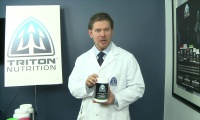 Immuno Growth Factor with PRP contains a very pure form of Colostrum from grass-fed, organically raised cows. It is cold-pressed in order to preserve molecules called proline-rich polypeptides or PRPs. It provides one of the best building blocks needed for muscle recovery.
On Triton Nutrition's site, you will find recipes that use Vital Vegan Protein with a scoop of Immuno Growth Factor with PRP. But for heavy training athletes, Robert recommends taking three scoops of Immuno Growth Factor with PRP a day. One scoop three times a day with water is almost like an infusion of good amino acid building blocks direct to the muscles.
A highly trained athlete who is exercising a great deal is actually compromising his or her immune system due to the stress of heavy training. It is important to listen to your body and if you're training extremely hard and raising your cortisol level then you're increasing inflammation and weakening your body's immune defense.
It is very important to balance your training, but if you're gearing up for a competition then it is important to support your body as much as possible. Immuno Growth Factor with PRP is an excellent way to do just that for those high intensity workouts. This is an excellent product for CrossFit athletes and for those endurance athletes.
by Robert Seik, PharmD
54 episodes