Manage episode 153126046 series 1082177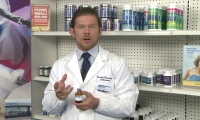 Myers Cocktail is not an adult beverage. It is actually a small volume intravenous infusion made up of vitamins and minerals.
Myers Cocktail is a small 50cc vial of vitamins and minerals made for intravenous infusion. It contains B Vitamins, Calcium, Magnesium and some minerals. It is named after the physician who developed it, Dr. John Myers, a Baltimore physician.
Robert Seik, PharmD and owner of Partell Specialty Compounding Pharmacy, explains how they make the Myers' Cocktail at his USPC laboratory. This vial can then be placed in a small IV bag by a physician and given to the patient intravenously or they can draw it into a syringe and administer it over a 2-5 minute period. The idea is to achieve a very high peak plasma concentration of these vitamins and minerals. Our body's cells then take up these nutrients.
Dr. Myers used the Myers' Cocktail, which is nontoxic and safe, to treat chronic fatigue, asthma, acute muscle spasms, Fibromyalgia and those with chronic allergies. Most patients remark on the energy boost that they receive right away.
In 1984, Dr. Myers passed away and Dr. Alan Gaby further refined the formula, which is mentioned in the blog.
Vitamins and minerals are important in anti-aging as well as disease prevention and treatment.
by Robert Seik, PharmD
54 episodes