Manage episode 153126029 series 1082177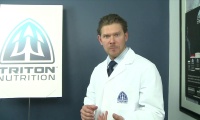 What are the most important nutrients that you need to take to support your body's hormone balance?
Triton Nutrition's philosophy is to first build the foundation, to balance your body's biochemistry with nutrition and hormones and then to boost performance.
The first thing to note is that men need to take Zinc and Magnesium. This is the best way to maximize your testosterone level. You cannot make testosterone without Zinc and Magnesium. Triton Nutrition promotes the food first model. You want to make sure you get the 6-7 servings of vegetables a day. Take loads of dark green leafy vegetables. 3.3 oz of pumpkin seeds has about 500mg of Magnesium or you can put 2 cups of Epsom Salt in a hot bath for a 30 minute soak to absorb your Magnesium. Supplements will most likely be necessary if you work out hard.
For Magnesium, Triton Nutrition recommends Mag Powersorb, 2-3 capsules a day for men, which is best absorbed on an empty stomach.
Testosterone can easily be converted into estrogen and it is important to maintain a healthy ratio. A healthy balance in a young man is to have a testosterone level at about 1000 and an estradiol level at about 20. We want to make sure that testosterone doesn't drop too much and that estradiol doesn't climb too much. This happens very easily when there is a Zinc deficiency. In order for testosterone to be converted to estrogen, all that's needed is to simply remove a single Hydrogen atom, which is the smallest atom in the world.
Triton Nutrition has a product called Zinc Glycinate, which is in the most optimal form that the body absorbs. This is called a chelated mineral. Each capsule is 20mg and Robert recommends that men take three capsules a day. The more we exercise and the more we sweat, the more minerals like zinc and magnesium are excreted from the body.
Testosterone in women is very important as well. If women have estrogen dominance, they will experience weight gain, heavy periods, breast tenderness and PMS. Robert recommends 1-2 capsules of Zinc Glycinate a day or 20-40mg.
Triton Nutrition also has a product called Estro Shield with DIM. DIM or diindolylmethane can be found in cruciferous vegetables. Everyone should eat about a cup of lightly cooked broccoli, cauliflower or cabbage a day. This will contain some of the DIM compound. DIM safely eliminates xenoestrogens, which are toxins that are similar in structure to our own estrogen that our body makes.
Estro Shield with DIM also contains bioperine, which helps with the absorption and it also contain Turmeric, which helps detoxify and acts as an anti-inflammatory.
So Zinc helps block the conversion of testosterone to estrogen. Magnesium is needed in the body to make estrogen. Estro Shield with DIM will help balance out the estrogen and testosterone in the body and maintain a higher level of testosterone than estrogen.
by Robert Seik, PharmD
54 episodes