Manage episode 153126049 series 1082177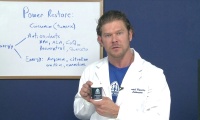 Support Cell Energy Production and Reduce Inflammation with Power Restore. Specially formulated to help athletes recover from tough workouts, it reduces inflammation, oxidative stress, and improves the way our our cells make energy.
What is unique about this product is the synergistic blend of specific nutrients that when used together, allow your body to recover from workouts. One of these nutrients is Curcumin, which is derived from the spice Turmuric. It has been highly researched and proven to reduce inflammation.
Also included is a group of amino acids, such as Methionine, Citruline, Arginine, and Ornithine that are utilized in the electron transport chain to help our cells make energy.
In addition, a blend of antioxidants, are also in this product, such as N-acetylcysteine (NAC), ALA, Resveratrol, Quercetin, and CoQ10. If you want to learn more about the importance of antioxidants you can go to Triton Nutrition's library.
When you begin using Power Restore, it is suggested by Robert Seik to take 2 capsules before a workout and 1 capsule right after. For the average individual who trains to maintain their physique, Power Restore would also benefit them by improving recovery time, reducing inflammation to prevent future injuries and increasing energy.
By Robert Seik, PharmD
54 episodes