Manage episode 153126032 series 1082177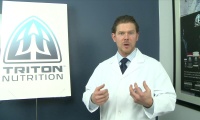 Triton Nutrition has the Three B Philosophy: Build, Balance and Boost.
Build requires building blocks and the first thing you need to do in order to build is to build a good foundation for the body. What this means is that you need a solid, nutritional foundation. The hormone biochemistry in our body is very complex. Each individual hormone has 300-500 different functions. These hormones have to change from one form to another and they have to activate receptors, to be deactivated and to be metabolized and eliminated from the body. All of this is a complex symphony of biochemistry that goes on and you can't have this symphony occur without the nutritional cofactors necessary. Vitamins, minerals and amino acids are very important nutrients that are necessary.
Even if you make your best effort with a nutrient-dense diet, you can still have nutrient deficiencies because our soil is severely depleted. Supplements will be necessary in order to supplement your nutrient-dense diet.
Your diet should consist of a large amount of vegetables (6-7 servings), a few select fruits (2-3 servings) and high quality proteins. It's important to eliminate those foods that are not nutrient-dense and that actually rob your body of nutrition, like flour and sugar. The top 20% of people are actually only getting 5 servings of fruits and vegetables a day.
If you are someone who exercises, this will place an additional toll on your body and cause more of a nutrient depletion through an increase in metabolic processes.
Balance is the next step in the Triton Nutrition philosophy. Balancing hormones is very important. In women, it is important to balance your estrogen and progesterone. Many women do well without the added estrogen during HRT and progesterone replacement therapy is enough. The balancing of nutritional cofactors is also very important. If you are on HRT you need to consider taking additional nutrients because HRT alone can deplete certain nutrients from your body. Magnesium and B complex vitamins are certain nutrients that are often depleted. These deficiencies can make you feel weak and fatigued, often how you felt before you started on HRT. Instead of increasing your dose of HRT, you actually need to supplement those nutrient deficiencies.
by Robert Seik, PharmD
54 episodes